Order Rx Pads by Fax / Email / Mail
Why Order Rx Pads by Fax / Email / Mail?
New fax/email/mail orders will incur a $25 layout setup fee.
Save $25 by ordering online.
Our online ordering system can accommodate a number of different tamper resistant prescription pad order preferences, but there are also many conditions that are more suitable to order Rx pads by fax/email/mail. If you answer yes to any of the following questions, please click on your preferred product state link further down the page to download an order form.
Do I need more than one provider on my tamper proof prescription pads?
Do I have more than one address to include on my order for Rx pads?
Do I prefer a horizontal (landscape) format?
Do I want a custom layout that resembles our previous scripts? Custom layouts take an additional business day in production and will ship after final proof approval.
Do I need to pay for my Rx pad order with a check?
If you need assistance determining whether you should download an order form, or order online, or if you are not sure which order form best suits your needs, please call us at 800-510-1050 and we'd be happy to help.
How to Order Rx Pads by Fax / Email / Mail
To order Rx pads by fax/email/mail from us:
Decide which product you need- secure tamper resistant Rx pads, Hologram MMP prescription pads, Numbered Rx pads, or tamper resistant EMR prescription paper (For security reasons, the white, second sheet of our two-part, carbonless copy script is completely blank and only transfers what is written on the script. No other information is preprinted or will appear on the second sheet)
Click on your state-specific link listed below, within your product category, to download your order form
Print out the prescription pad order form
Fill out the order form including credit card information. If you prefer to pay by check, please mail your completed order form with check.
Attach a voided copy of your current script to the order if you'd like us to follow a previous script sample. Straight reorders will not be charged the additional $25 layout setup charge.
You may include a second (blank) sheet of paper with additional information that you would like on the script (ie. additional providers, addresses, etc.) Please write or type this information clearly. If you want the information in specific spaces on the final product, please indicate additional instructions on the second sheet. Alternatively, you can provide a 'mock-up' with all information that you would like printed.

New fax/mail/email orders will incur a $25 layout setup fee. 

Fax/Email/Mail your completed order. Our fax number is 800-500-3060 and our mailing address is 983 12th St. Vero Beach, FL 32960.
It's that simple. And, in just days, you will be writing your secure prescriptions with the same peace of mind that all of our clients have.
Please note: PRINTED ITEMS ARE NON-REFUNDABLE.
---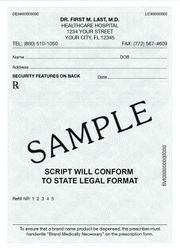 Secure Tamper Resistant Rx Pad State Order Forms (Standard Rx)
---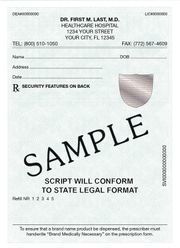 Hologram MMP State Order Forms
---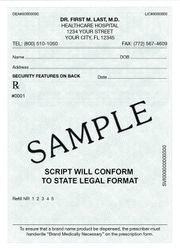 Numbered Rx Pad State Order Forms
---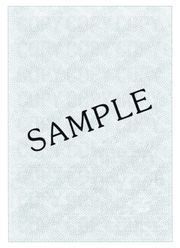 Rx Paper State Order Forms (EMR/EHR)
---
Our Rx pads meet and exceed ALL Federal and State regulations, including those for Medicare/Medicaid. Our tamper resistant Rx is compliant with increased security requirements in Washington, Florida, Wyoming, as well as all other states and Puerto Rico.
For custom layout design, please contact us at 1-800-510-1050. 
We ask that you send a voided script to insure that we receive the complete information for your prescription pad order. We are proud of our 99% accuracy, and this is one way that we achieve that standard.
* Available in all states except DE, IN, KY, NJ, NY 
** Available in all states except CA, DE, IN, KY, NJ, NY, WA
*** Available in all states except DE, KY, IN, NJ, NY, WA