Hologram MMP Pads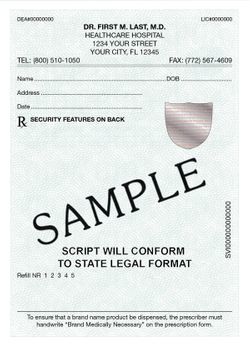 Exclusive Prescription Pads, Ultimate Security
Providers who purchase Hologram MMP prescription pads enjoy the appearance of the distinctive hologram shield as well as the enhanced, counterfeit-proof security of these scripts. The hologram shield appears silver on each script. However, when held to the light, the hologram may appear in color revealing the words Hologram MMP. Furthermore, additional security features are listed on the back of the script.
Elements of our Hologram MMP Prescription Pads: 
Ultimate tamper resistant security with unique hologram on each script
Industry-standard security features
Single sheet or 2-part, carbonless copy Rx pads (Hologram does not appear on the carbonless copy)
Approved in all states except DE, IN, KY, NJ, NY, WA
Produced in vertical format, measuring 4 x 5.5″
How to Buy Hologram MMP Prescription Pads
There are two ways to order. Firstly, you can order online by selecting your state and the Hologram MMP product. Online ordering is made easier with 'proof as you type' functionality, and can support one provider, one address. Another way to order is by Fax/Mail. Ordering by Fax/Email/Mail allows for customization, including multiple names and addresses.
Please note: PRINTED ITEMS ARE NON-REFUNDABLE.